<![if !vml]>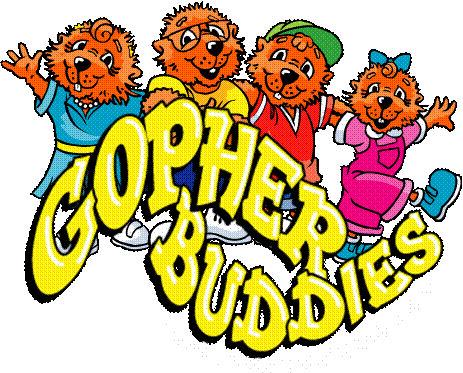 <![endif]>
Welcome to the Fellowship Baptist Church Gopher Buddies Program Website!
Gopher Buddies Motto:
Digging deeper in God's Word
Gopher Buddies is a PARENT AND CHILD ministry. It exists not only for spiritual growth of your child but also for you to develop a growing family relationship around the truth of God's Word. Another benefit of Gopher Buddies is that it has a positive impact on the character and conduct of children. What they learn in the Gopher Buddy meeting, the Bible Time, Quiet Time, Scripture memory and Christian service should impact their character building truths and conduct. YOU are an important part of this program, as you will be working with them with their Quiet Time books on a daily basis. The time spent is short but very important to the program.

Each month the children will learn one memory verse. It is usually an easy verse…short. We will teach that verse in the GB meeting on Wednesday. It is up to you to reinforce that verse. Memorizing scripture is an important foundation in Biblical learning. It is important that they not only know the verse, but also know the meaning so they will be able to apply it to their lives.

We are committed to helping to disciple your child to grow in the Lord. The Gopher Buddy program is a great one…one with games, prizes and even puppets. There is a lesson at the end of each month that is a review of what they have learned and it involves a "GB puppet family." This is a sweet program and one that is filled with a wonderful Biblical foundation for your child. The Gopher Buddies Program works on incentives. The children move up based on their completion of each level's requirements. Requirements include Scripture memorization, faithful quiet time completion, and Christian service projects.

We thank God for the opportunity He has given us and look forward to the great work that YOU and we will accomplish for the glory of God. And, we thank you for entrusting your child to us.
This month's memory verse:

Need a ride to Gopher Buddies?

Call 231-9512